Dosage Strength and Efficacy
Trust in 4 dosage strengths to suit your patient's needs
TOPROL-XL (metoprolol succinate) is available in 4 dosage strengths—25 mg, 50 mg, 100 mg, and 200 mg.

Have confidence in proven efficacy across all 4 doses4
Reduction in SiDBP* and SiSBP† with once-daily TOPROL-XL4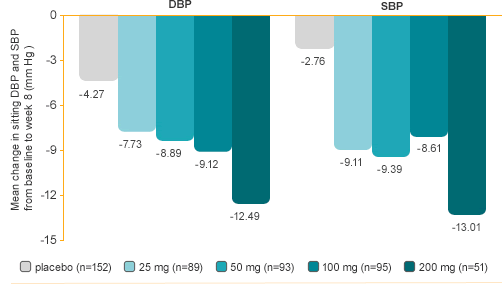 Results from a US multicenter, randomized, double-blind, placebo-controlled, parallel-group, unbalanced factorial study. In part, it evaluated the antihypertensive efficacy and the safety of once-daily dosing with extended-release metoprolol succinate monotherapy and placebo in adult patients with newly diagnosed or treated essential hypertension.4
Mean baseline SiDBP 100 mm Hg and mean baseline SiSBP 151 mm Hg
*SiDBP=sitting diastolic blood pressure.
†SiSBP=sitting systolic blood pressure.
‡For each dose vs placebo.
In hypertension, initiate with 25 mg to 100 mg once daily. Increase at a weekly or longer interval to optimize clinical response. Dosages above 400 mg per day have not been studied1
Safety and Side Effects